Tetracyclines
Spectrum
Oxytetracycline
Many Gram-positive and Gram-negative bacteria,
Rickettsia spp. Mycoplasma spp. and spirochaetes.5
Doxycycline
Activity includes spirochaetes, Mycoplasma spp. Rickettsia spp. and Chlamydophila spp.5
Physicochemical properties
Oxytetracycline has moderate to high lipophilicity and is amphoteric.
Doxycycline is highly lipophilic.
Distribution3,4,7
Good distribution especially to the respiratory tract.
Do not achieve high concentrations in the prostate or central nervous system (CNS).
Pharmacokinetics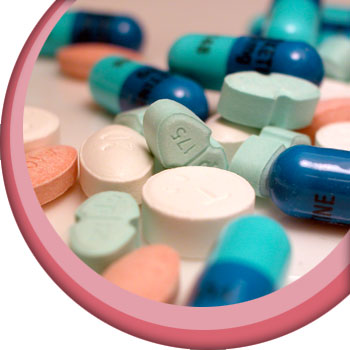 Bioavailability 60-80% if fasted.25
Variable after I.M. injection (0.5-several hours).25
75-96%.25
Higher in cats.25
Excreted in faeces via non-biliary routes.25
Readily
absorbed orally.25
2 hours after 10mg/kg oral dose86
Parameters for oral administration in dogs unless otherwise stated.
Side effects/contra-indications85
Side effects and contra-indications may vary between presentations. Some of those seen more frequently are included here but veterinary surgeons should always refer to the Summary of Product Characteristics (SPC) for full details before prescribing a product.
Side effects include nausea, vomiting, diarrhoea and anorexia. Overgrowth of non-susceptible organisms may occur with long term therapy.
Oral oxytetracyclines are not well tolerated in cats.
Avoid in young animals as tetracyclines may cause tooth discolouration.
It is advisable to give food or water after administering tablets to cats to reduce the risk of oesophagitis.
Disclaimer: Indications and doses may vary between products. The antimicrobials listed may constitute an off licence use of the product and as such should only be used according to the 'Cascade', further details of which are available on the RCVS, VMD and NOAH websites. Veterinary surgeons are advised to carefully check the Summary of Product Characteristics (SPC) before prescribing a product and obtain informed owner consent where required.