Cephalosporins
Spectrum
Cephalexin: Gram-positive and some Gram-negative organisms including Staphylococcus spp.
Pasteurella spp. Proteus mirabilis. Klebsiella spp., and Escherichia coli. and Pseudomonas spp.
are usually resistant.5
Physicochemical properties
Acidic, hydrophilic.3
Distribution3,4,7
Do not cross the blood-brain barrier (BBB) or enter the eye or the prostate.
Will reach joints, bile and milk.
Will cross the placenta.
Pharmacokinetics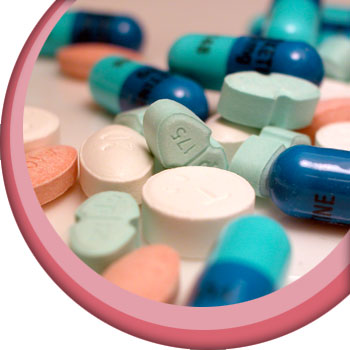 Cefazolin Sodium
(1st gen)
following IM injection.
Not appreciably absorbed orally.25
Bioavailability after S.C. or I.M. injection over 90%.25
Cefovecin Sodium
(3rd gen)
following SC injection.
In dogs:121+/- 51 µg/ml.25
In cats:141 +/-12 µg/ml.25
In dogs: 98.5%.25
In cats: 99.8%.25
In dogs:
0.122 L/kg.25
In cats:
0.09 L/kg.25
In dogs: 133+/-16 hours.25
In cats: 166 +/-18 hours.25
Completely absorbed following S.C. injection.25
In dogs:
6 hours.25
In cats:
2 hours.25
In dogs:
30 µg/ml.6
In cats:
18.7 µg/ml.25
In dogs:
1-2 hours.6
In cats:
2.6 hours.25
Cefpodoxime Proxetil
(3rd gen)
Bioavailability 63% if fasted25
Parameters for oral administration in dogs unless otherwise stated.
Side effects/contra-indications6,25,85
Side effects and contra-indications may vary between presentations. Some of those seen more frequently are included here but veterinary surgeons should always refer to the Summary of Product Characteristics (SPC) for full details before prescribing a product.
Side effects include gastrointestinal disturbances such as vomiting and diarrhoea. Use should be avoided in cases of known hypersensitivity to beta-lactam agents.
Disclaimer: Indications and doses may vary between products. The antimicrobials listed may constitute an off licence use of the product and as such should only be used according to the 'Cascade', further details of which are available on the RCVS, VMD and NOAH websites. Veterinary surgeons are advised to carefully check the Summary of Product Characteristics (SPC) before prescribing a product and obtain informed owner consent where required.