Macrolides
Spectrum
Erythromycin: Gram-positive cocci, Gram-positive bacilli and some Gram-negative bacilli.
Active against some Actinomyces spp. Nocardia spp. Chlamydia spp. and Rickettsia spp.
Most Enterobacteriaceae are resistant.5
Physicochemical properties
Moderate to high lipophilicity, weakly basic.3
Distribution3,4,7
Good distribution.
Do not cross blood-brain barrier (BBB).
Basic so become ion-trapped at sites of inflammation, the mammary gland and prostate.
Pharmacokinetics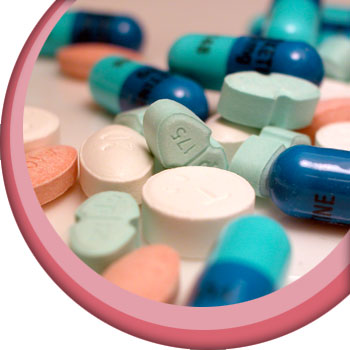 3-3.6µg/ml for clarithromycin.29
Biliary excretion, some hepatic metabolism.25
60-90 minutes in dogs and cats.25
Needs an enteric coating for oral use as absorbed in the upper small intestine.25
68-83% bioavailability for oral clarithromycin, better fasted.29
1-2 hours for clarithromycin.29
Parameters for oral administration in dogs unless otherwise stated.
Side effects/contra-indications85
Side effects and contra-indications may vary between presentations. Some of those seen more frequently are included here but veterinary surgeons should always refer to the Summary of Product Characteristics (SPC) for full details before prescribing a product.
Side effects include gastrointestinal upset. 5,25,85
Avoid in patients with hepatic dysfunction, and use with caution in patients with renal impairment.5,25
Disclaimer: Indications and doses may vary between products. The antimicrobials listed may constitute an off licence use of the product and as such should only be used according to the 'Cascade', further details of which are available on the RCVS, VMD and NOAH websites. Veterinary surgeons are advised to carefully check the Summary of Product Characteristics (SPC) before prescribing a product and obtain informed owner consent where required.